Anything you type on a search engine is a keyword. Let's understand the basic concept of what actually keyword is.
We will start from basic like what is keyword, what is keyword research and some keywords example then we will move one step ahead to understand how to do keyword research and some keyword research tools. I have also shared a video at the end of this article about a practical demo of a keyword research tool to make things easier for you.
So let's get started to understand everything in detail with practical examples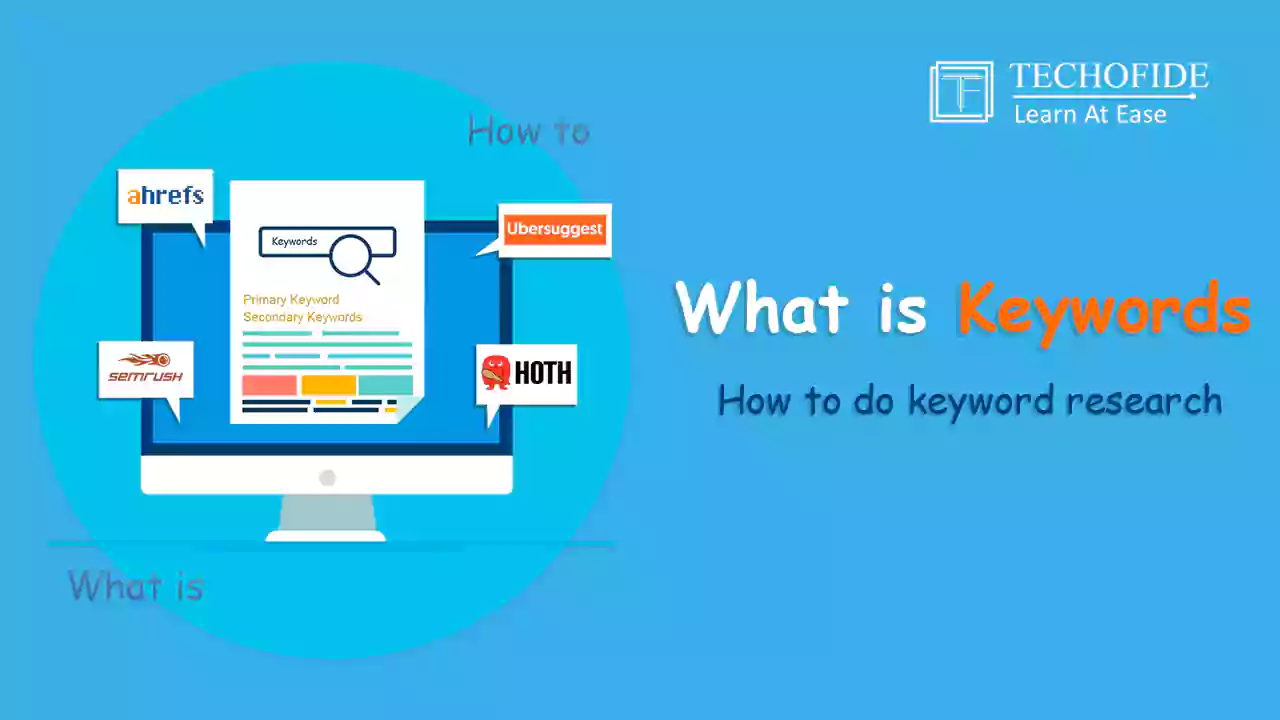 What is Keyword?
Now what exactly keyword is? So any term you search on search engines (Google, Yahoo, Bing etc.) is a keyword. The main purpose of the keyword is to find the best results related to your queries on the internet. Let's understand it with an example
Suppose you want to buy a "jacket" online. So what would you do first?
Simply you will go to Google or Yahoo and search for a jacket according to your choice you might search for a "leather jacket".
Now at the moment, you type "leather jacket" and search for it, your search engine will take "leather jacket" as a keyword and find all matching results from the internet who are selling leather jacket.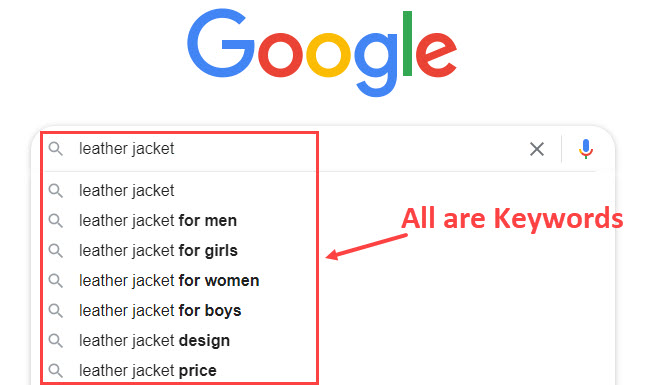 Note: Many people have misunderstood that keyword is a single word but it is not like that, A keyword can be a combination of 3-4 words also. So if "leather jacket " is a keyword then "leather jacket for men" is also another keyword.
What is Keyword Research?
Keyword research is the way of understanding the writing method of your customers when they are searching for your services, content and products on the internet. Keyword research tools are the best and easy way to find the high searched keywords and then effectively you can use them on your website.
Why are Keywords Important?
Google looks at more than 200 factors on websites before ranking them and keyword is one of the most important factors that tells Google, what is actually your content about. If you write valuable and good content but not focus on the usage of keywords then you will not able to position your page, hence you will get no visitors or customers because your text doesn't match what your potential audience is searching for.
The terms you're using in your post or page are hints for Google; it shows Google and other search engines what the page or post is about. So if you want to make Google understand what your page is about, you need to use some words repeatedly on your page.
But you can not use keywords just because Google needs them for ranking, Keywords are more concerned with customers. With the help of SEO (Search Engine Optimization), you may use keywords in an effective way so that whenever any customer search a related query on the search engine (Google, Yahoo) they will directly show your page on search results and they will land to your website or post.
What are Keyword Search Tools?
Every content writer use keyword search tools to research the targeted audience on a specific query. So there are many free and paid keyword search tools are present in the market the examples of the most popular and used tools are Ubersuggest, Semrush, Ahref, Thehoath etc...
The Keyword research tools will give you information about:
What are people searching for?
How many people are searching for it?
In what format do they want that information?
How much traffic is possible on the particular word?
Estimation of how much money you can earn on your particular content.
What is Keyword Difficulty?
Whenever we use a keyword research tool like Semrush, Ubersuggesat and Ahref etc We found four major parameters on all keyword research tools that help to choose a good keyword. Keyword difficulty short as KD is also one of the most important factors of keyword research. You can check the four parameters below:
Search Volume (SV): It tells the number of searches on a single keyword per month. This is very helpful to know how much audience you can target on a particular keyword. If you used it in the correct way you will get higher organic traffic ( Organic traffic are the users that are coming to your website without any reference and only from search engines by typing a particular query) on your website or post.

Keyword Difficulty (KD): KD is also known as "SEO difficulty" is the way of analyzing how difficult it is to rank in search results for a particular keyword. The higher the value, the difficult is to compete with others using that keyword.

Paid Difficulty (PD): This shows the importance of a particular keyword with its price. It is calculated from 1 to 100, the higher the value, the higher the importance. It represents if people are eager to spend money on a particular keyword.

Cost Per Click (CPC): It is a model where the advertiser pays every time someone clicks on their ad. But for bloggers and content writer's who display ads on their blogs is very important because this is the source of income. Let's suppose you have to insert an ad on your article, Now whenever any user clicks on the ad you will get paid per click that's why it is known as cost per click.
You can check the below image to know what range is recommended by keyword tools to choose KD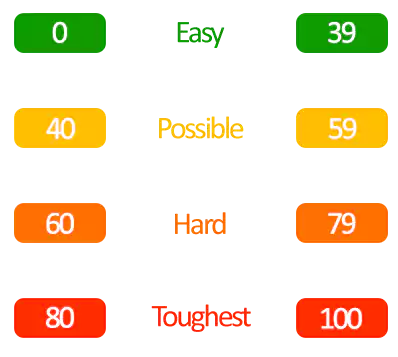 How you can use Keywords in your Pages and Posts?
You can easily use keywords in your posts and pages with the help of On-Page SEO. So basically On-Page SEO is a technique that is used to rank your post or page in top search results. It includes some rules like how you can write a title for your blogs, how many time you have to use keywords in your posts or pages and much more.
If you want to know the whole process of how you can implement On-Page SEO practically on your posts or pages you can check my video on What is On-Page SEO | How to Implement Practically on Your pages also I have shared my checklist there which I personally follow to rank my pages.
How to do Keyword Research?
The easiest way to do keyword research is by using keyword research tools. You can use Ahref, Semrush if you afford those tools because both are paid but don't worry you can use Ubersugggest if you need a free and effective tool.
To know how to use that tool and start keyword research you can see the below video where I have practically told you about What is keyword and how to do keyword research by using Ubersuggest and it will also help you to learn how to do research.
Conclusion
Now you have gained a lot of knowledge about what is keyword and how you can do keyword research on your own. I hope this will really help you, but if you still feel any difficulty you are free to post a comment below I will definitely help you with your concerns.
Commonly Asked Questions
Que 1 What is good keyword?

Ans. A keyword which have high search volume (SV), low keyword difficulty (KD), low paid difficulty (PD) and high cost per click (CPC). You can do keyword research best practices by using keyword research tools like Ubersuggest, Semrush and ahref.

Que 2 How do you use keywords?

Ans. You need to distribute yoyr keyword in your whole article or page like: First in your main heading, then it should be present in your first paragraph, middle of the article, sub headings and the last of the article.

Que 3 What is keyword research in digital marketing?

Ans. The keyword definition is same for all fields whether it is digital marketing or blogging. The main goal is to achieve high organic traffic, The differnce is only on usage i.e, how well you can use your organic users to improve your earning and sales.

Que 4 What is google keyword planner?

Ans. Google keyword planner is another free keyword research tool which is mostly used by beginner's for their keyword research.

Que 5 What is keyword analysis?

Ans. As it name, it is the process of evaluation of a keyword which can be used for your post or article so that you can use it to get higher traffic from the internet and can rank your content easily on the top search results. Their are many tools present in market which will help you for keyword analysis like Ubersuggest, Semrush, ahref and much more.

Que 6 What is organic keywords?

Ans. The phrases which is typed on internet from users is known as organic keywords. They help to drive organic traffic to your website without any reference and only from search engines by typing a particular query
Also Read Blogs On: